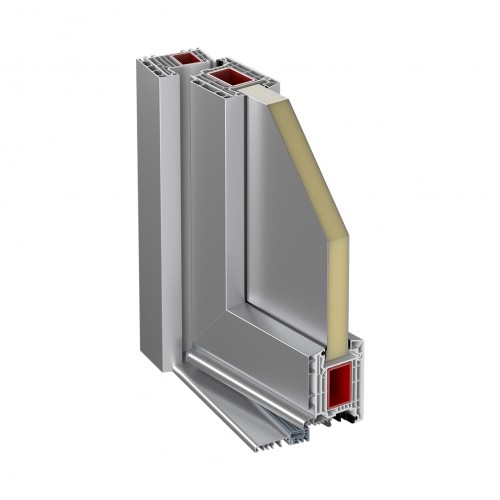 Platinumline
Modern, innovative, unique
Products the best of the best. Solutions with the highest safety, sound and energy efficiency parameters, including those meeting the requirements of passive construction.
ClimaStar 82 Alu
ClimaStar 82 Alu doors achieve a very low heat transfer coefficient and can be successfully used in energy-efficient houses. These door has the appearance of an aluminum system while retaining the advantages of a PVC door.
ClimaStar 82 Alu
In this system, as many as three gaskets are used, which have a beneficial effects not only on thermal, but also acoustic insulation, limiting the penetration of sounds from outside to the inside of the building.
An aluminium overlay on PVC door profiles is a solution that facilitates their care and protects them from deformation under the influence of high temperatures. In this system, we make doors with the highest thermal parameters. It guarantees effective protection against temperature loss from the building and need of its extensive heating.
ClimaStar 82 Alu door is especially recommended for energy-efficient houses and modern, minimalistic architectural blocks. Due to its aluminium look, it fits perfectly in modern office buildings, luxury apartment housing, and various types of service facilities.
Number of compartments
7 / 6
Profile system
VEKA Softline 82 MD
Recommended for you
Check it
which products will perfectly complement this choice. See the best combinations and complete solutions to suit your project.